Welcome to Deutsch.ie
Whether you're just getting started or already know your conjunctions from your prepositions, Deutsch.ie is the place to polish your German to perfection. Open up our Grammar section to get started with some explanations, exercises, vocabulary games, texts & more!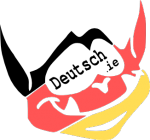 Irish students of Leaving Certificate German can find archived sections of previous written, aural, and oral exams below. Check out the marking schemes, listen and read along with the aural transcript, and brush up on your picture sequences, role-plays and general conversation skills!