German Language Resources - Free, Easy & Accessible
Whether you're a novice or an improver, practice makes perfect. Our German Grammar section gives you the opportunity to brush up on various aspects of grammar, such as prepositions and adjective endings, as well as teaching common nouns by theme and topic. Once you're confident enough in a certain area, try our interactive grammar exercises and test your knowledge to the max.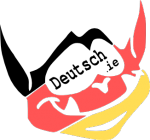 Irish students of Leaving Certificate German can find archived sections of previous written, aural, and oral exams below. Check out the marking schemes, listen and read along with the aural transcript, and brush up on your picture sequences, role-plays and general conversation skills!