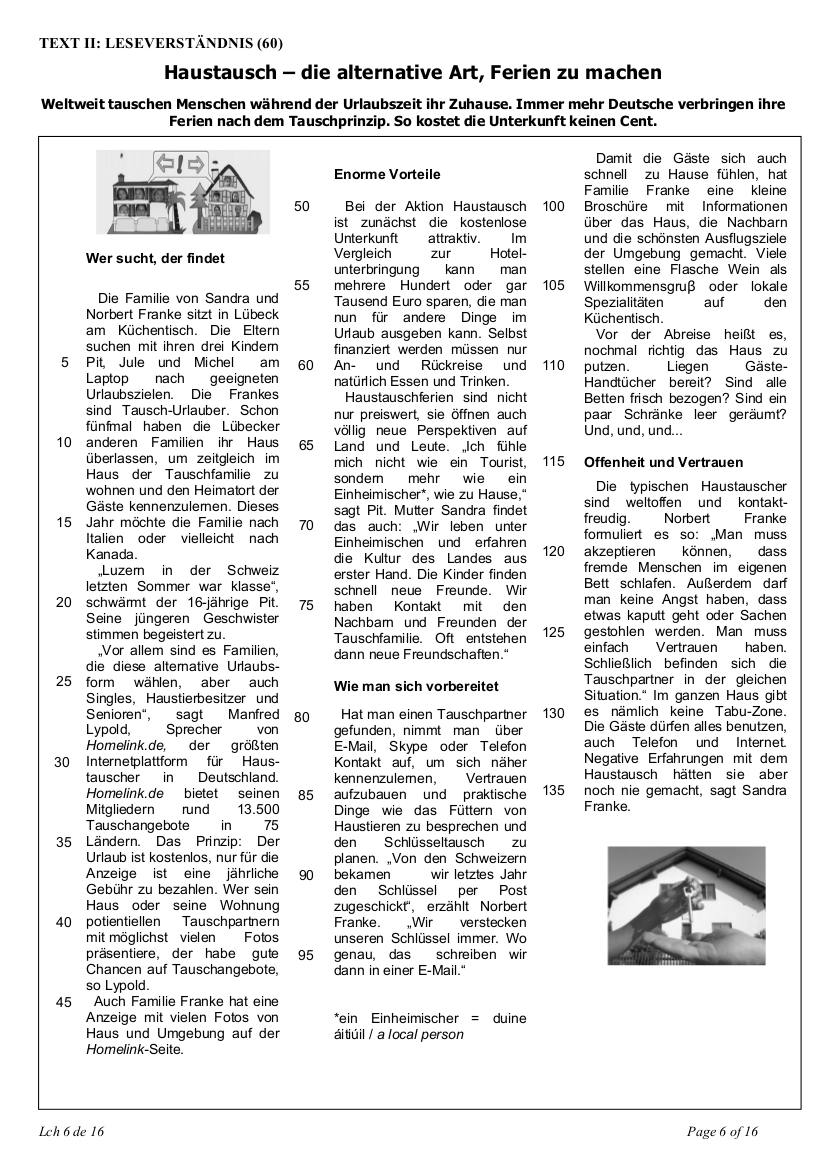 Answer Tips
(10 marks: 5 x 2 marks)         Any 5 of the following:
1) Meine Eltern heißen (mit Vornamen) Sandra und Norbert. / Meine Mutter heißt Sandra, mein Vater Norbert.
2) Ich habe zwei Geschwister (Jule und Michel) / eine Schwester (Jule) und einen Bruder (Michel) // Wir sind fünf in der Familie.
3) Sie (meine Geschwister / meine Schwester / mein Bruder) sind jünger als ich// Ich bin der Älteste.
4) Ich bin sechzehn Jahre alt.
5) Meine Familie und ich / wir wohnen in Lübeck.
6) Wir sind Tausch-Urlauber. / Wir tauschen gerne mit anderen Familien unser Haus.
7) Wir haben schon fünfmal unser Haus getauscht.
8) Wir möchten dieses Jahr am liebsten nach Italien oder Kanada.
9) Wir haben letzten Sommer in der Schweiz in Luzern Ferien / Haustauschferien / Urlaub gemacht.
10) Luzern hat mir/ uns gefallen.
11) Ich und meine Familie suchen am Laptop/ Computer ein Urlaubsziel.

Answer Tips
(6 marks: 3 x 2 marks)         Any 3 of the following:
1) Die Internetplattform heißt (www.)Homelink.de.
2) Manfred Lypold ist der Sprecher der Internetplattform.
3) … die größte Internetplattform (in Deutschland) für Haustauscher / für Leute, die ihr Haus tauschen wollen.
4) Man bezahlt // es gibt eine jährliche Gebühr (für eine Anzeige) // Als Mitglied hat man eine Anzeige auf der Webseite.
5) Es gibt 13,500 Tauschangebote in 75 Ländern.
6) Die Anzeige zeigt möglichst viele Fotos von Haus und Umgebung.
7) Familien/ Singles/ Senioren/ Haustierbesitzer gehören zu den Mitgliedern/ benutzen die Internetplattform.

Answer Tips
(8 marks: 4 x 2 marks)         Any 4 of the following:
1) They exchange homes / do a house swap with another family.// They live in the house of the exchange family whilst that family is staying in theirs. //Both families stay in each other's houses simultaneously.//Have done a home exchange five times.
2) They explore the exchange family's hometown.
3) They like to go to a different destination every year.
4) They would like to go to Italy or maybe Canada this year.
5) Last year they went to Luzern in Switzerland.
6) They put (an ad with) photos of their house (and their area) on the website.

Answer Tips
(8 marks: 4 x 2 marks)         Any 4 of the following:
1) Accommodation is free of charge.
2) Can save 100's/ up to 1000 Euro (over hotels) // It is cheaper.
3) This money can be spent on something else.
4) Only travel plus food (and drinks) have to be paid for.
5) It gives a different view on people // country.
6) One feels like a local/ at home.// One doesn't feel like a tourist.
7) One lives amongst locals.
8) One experiences the culture.
9) The children make new friends quickly.
10) One is in contact with the exchange family's neighbours // friends.
11) New friendships might emerge (from this contact).

Answer Tips
(10 marks: 5 x 2 marks)         Any 5 of the following:
They need to …
1) contact exchange partner via email/ Skype/ telephone.
2) get to know each other (better).
3) build up trust.
4) discuss feeding of pets and (handing over of) keys.
5) give information/ brochure about house/ neighbours/ beautiful destinations. (Any two: 1+1)
6) leave a bottle of wine or local specialities.
7) clean house.
8) have towels ready.
9) put clean sheets on beds.
10) empty some presses.

Answer Tips
(8 marks: 4 x 2 marks)         Any 4 of the following:
1) be open-minded.
2) be sociable.
3) be willing to put up with strangers sleeping in your bed.
4) not be afraid that things may get broken.
5) not be afraid that things may get stolen.
6) be trusting.
7) accept that no area in your house is considered taboo/ out of bounds.
8) accept that guests may use everything (e.g. telephone and internet).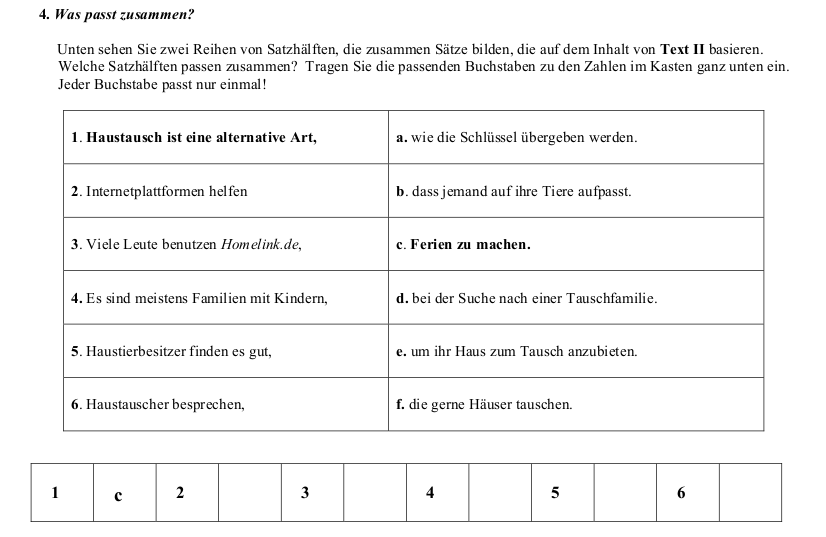 Answer Tips
(10 marks: 5 x 2 marks)
2 —> D
3 —> E
4 —> F
5 —> B
6 —> A